We have helped hundreds of people turn their immigration dreams into reality. We are sharing some success stories, but there are so many more:
Cristian came to the U.S. at age 15 to escape poverty, child labor, and threats from criminal gangs. He was put into removal proceedings after being stopped at the border. His aunt was his guardian, and she hired us to help. We then applied and obtained Special Immigrant Juvenile Status (SIJS) for him in State Court, applied for SIJS with USCIS, which was approved. We then terminated his removal case in Immigration Court. Once a visa became available, he was able to get a green card, even though he had turned 21 already.
— Cristian L.

Alex was brought to the U.S. when he was just 10 years old. He was brought by a family he didn't know, and they drove him across the border showing unknown documents to the border official to allow him to enter. Years later, he met the love of his life and they got married. She also happened to be a U.S. citizen. For years, they put his immigration status on the back burner because they were told he would have to leave the U.S. But, after hiring us, he was able to get his green card without leaving the country because we argued that his entry was LEGAL. He will become a citizen in 3 years.
— Alex T.

I.Y. used a broker who gave her a fake visa and passport to enter the U.S. in 1996. Years later, she met and married her U.S. citizen husband. For many years, they were told that she could not get her residency due to her entry. She hired us for her case, and we filed for her green card and waived her misrepresentation at entry, and she was approved a little over a year later.
— I.Y. Um

Carol came to our office after having a falling out with her previous attorney. She was in removal proceedings in Immigration Court. Carol was a single mother to her one qualifying relative: her niece, who was 16 years old and about to go into her senior year of high school. She became her guardian, after her mother died of cancer. Carol was the only person that her niece had in her life. We showed that her niece would suffer exceptional, and extremely unusual hardship if she were not in the U.S., and Carol was able to get her green card.
—- Carol T.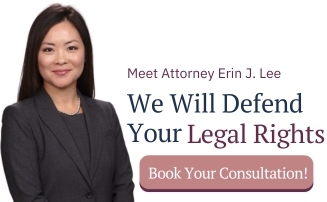 Fill Out The Form Below To Schedule A Consultation.
Request A Consultation Today!
Are you seeking clarity and guidance on your immigration journey? The Law Offices of Erin J. Lee is here to assist you. Based in the heart of Escondido, California, our dedicated team specializes in navigating the intricate paths of immigration law.