San Diego Super Lawyers Magazine, "2018 San Diego Rising Star List"
San Diego Super Lawyers Magazine, "2019 San Diego Rising Star List"
San Diego Business Journal's "2016 Best of the Bar"
San Diego Business Journal's "2017 Best of the Bar"
American Society of Legal Advocates' 2016 "Top 40 under 40"
National Association of Distinguished Counsel, "Top One Percent," 2015American Institute of Personal Injury Attorneys "10 Best of 2015-2016"
Philippines & Asian Report, "Child Status Protection Act," August 31, 2015
Philippines & Asian Report, "Automatic Citizenship," August 10, 2015
Philippines & Asian Report, "U.S. Supreme Court Finds Same-Sex Marriage Lawful!" July 20, 2015
Philippines & Asian Report, "My Child is Now 21, Can They Petition Me?" June 29, 2015
Philippines & Asian Report, "Travel for DACA Recipients," June 8, 2015
Philippines & Asian Report, "Criminal Convictions and Your Immigration Case," May 18, 2015
Philippines & Asian Report, "Falsely Claiming Citizenship Makes You Inadmissible," April 27, 2015
Philippines & Asian Report, "Benefits of Naturalization," April 6, 2015
Philippines & Asian Report, "Certain H-4 Dependents May Qualify For a Work Permit," March 16, 2015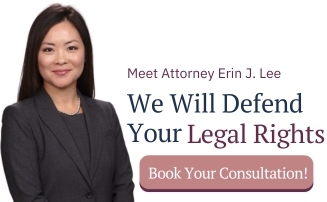 Fill Out The Form Below To Schedule A Consultation.
Request A Consultation Today!
Are you seeking clarity and guidance on your immigration journey? The Law Offices of Erin J. Lee is here to assist you. Based in the heart of Escondido, California, our dedicated team specializes in navigating the intricate paths of immigration law.